A few people have had difficulties sending files to Tap Forms. Here's a brief guide showing you how to do this.
The first thing you need is an FTP client application. My recommendation on the Mac is Cyberduck. You can download Cyberduck from cyberduck.ch. On the PC, I've only had experience with FileZilla. You can download FileZilla from filezilla-project.org. FileZilla is actually available for Mac, Windows, and Linux.
Note to Mac OS X users: The OS X Finder mounts FTP servers in read-only mode. This means you cannot drag files to Tap Forms by connecting to it with the Finder. Please use one of the above programs instead.
Once you have your FTP client app ready to go, do the following:
1. Tap the Files tab in Tap Forms: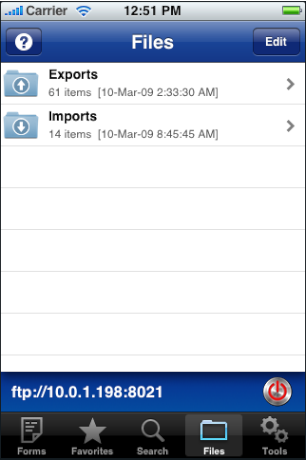 2. Tap the "Power On" icon:

3. Connect to Tap Forms using the IP address provided on your device. This will most likely be different than what's in the screenshot above for me. For Cyberduck, these are what my settings look like for my IP address:
This is what I used for the Mac version of FileZilla:
4. In your FTP program you should now see your file list like this (in Cyberduck):

5. Now just drag your .csv files into the inside of the Imports folder. When you do this, your .csv files will become available to Tap Forms when you tap the "Import Records" button from either the list view's action menu or from the Edit Form's action menu.
I hope this short guide helps you out with this task.